London Gatwick to Dusseldorf Cheapest Fares
To search and book flights to Dusseldorf, please enter your travel requirements in the search form above, and click the search button.
Dusseldorf hosts the world's largest event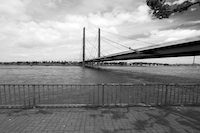 In the heart of Germany is the somewhat extravagant city of Dusseldorf. This beautiful city has the highest per-capita income in the country, making it an excellent destination for those in need of a fantastic shopping experience. The city is filled with a combination of historical architecture, modern buildings, old-world marvels, and European charm, while the local people are inviting and friendly.
Booking a flight to Dusseldorf from London Gatwick only takes a minute in person or online. With so many available flights and great rates, the hardest part will be deciding when to go. The international airport at Dusseldorf is within close proximity to the city centre, making the trek to your hotel a quick one. Choices of local transportation include the S-Bahn 7, taxis, buses, or trams.
Dusseldorf has some of the largest museums in the country. Kumstmuseum Dusseldorf houses over 80,000 pieces, many by renowned artists such as Caspar David Friedrich and Rubens. There are also textiles, ceramic and bronze items to view. The Kunstsammlung Nordrhein-Westfalen is a two-in-one museum with one side offering older pieces while the other has more contemporary styles. Here you will find the works of Matisse, Picasso, Pollock, and Paul Klee.
The largest event in Dusseldorf is the annual Dusseldorf's Grosste Kirmes am Rhein. Taking place in July, this nine-day festival attracts more than four million visitors from around the world to help celebrate St. Apollinaris, the patron saint.