London Gatwick to Guernsey Cheapest Fares
To search and book flights to Guernsey, please enter your travel requirements in the search form above, and click the search button.
Enjoy a relaxing holiday in Guernsey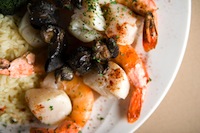 Guernsey is the perfect place for a peaceful and relaxing holiday. With its stunning natural scenery and quiet picturesque towns, it gives you a great opportunity to rejuvenate yourself.
Situated between the UK and France, it is part of the group of Channel Islands under British control. However, many of the street names are still in French and the influence of their culture is evident to this day. It is mainly popular with the older generations, but can also be suitable for families and couples. It is very quick and easy to get around the island, with cheap bus fares on offer. Flights to Guernsey from London Gatwick are widely available and many great deals can be found online.
Many tourists and residents alike come to visit the Guernsey Festival of Comedy, which takes place every June. It occurs over nine days and brings together comedians from all over the world. There are also many shopping places to browse for gifts, clothes, and much more. You can try out various cuisine, including freshly caught seafood.
The island is popular for walking and nature reserves. There are many clifftop trails, where you can also see local wildlife, such as puffins. Enjoy the boats at Saint Peter's Port and sit in a restaurant or café at the water's edge to see them dock or set off on their destinations. It is always a peaceful, but lively area, perfect for people watching or relaxing.