London Gatwick to Jersey Cheapest Fares
To search and book flights to Jersey, please enter your travel requirements in the search form above, and click the search button.
A Festival of Flowers in Jersey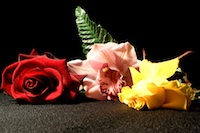 The island of Jersey lies off France's Normandy coast yet it is a dependency of Great Britain, with a glorious coastline and friendly people. Regular daily flights leave Gatwick for Jersey, making it supremely accessible.
While the island provides an unspoilt sanctuary for most of the year, in August, it plays host to some stunning festivals in St Helier, Jersey's capital. The 'Jersey Battle of Flowers' carnival was created in 1902 to celebrate the Coronation of King Edward VII and Queen Alexandra. Floats are built by community groups and competition for the prize for the best float is fierce. In earlier days, the tradition was to pull a bloom off one of the flower-covered floats and throw it to a lady in the crowd. If the lady threw it back, then battle began and the whole thing descended into a riot of flower throwing. This 'battle' aspect of the proceedings was dropped in the 1960s but there is still plenty to see and do at the festival; not only the Grand parade of floral floats but there are costumed dancers, street entertainers, bands and music, together with funfairs and concerts.
The evening after the Grand Parade, the floats parade again but this time at night in the Moonlight Parade, with each of the floral floats further decorated with thousands of tiny lights, a magical fairytale sight sure to impress even the most cynical of visitors.
After the parade finishes, the fireworks start, signalling an end to one of the world's prettiest festivals.