London Gatwick to St Petersburg Cheapest Fares
The lowest fare found from London Gatwick (LGW) to St Petersburg (LED) was £171 with Aeroflot. The fares shown here are the lowest flight prices to St Petersburg obtained in actual searches by Just The Flight customers. To search and book flights to St Petersburg, please enter your travel requirements in the search form above, and click the search button.
The Window to the West: St. Petersburg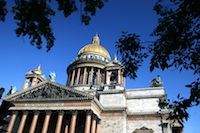 Originally built on swampy land, St. Petersburg has become Russia's 'Window to the West', a European, Italian-inspired city in the great country of Russia.
St. Petersburg is always changing; it was here that the Russian Revolution was begun, as was it here where democracy was most encouraged. Nowadays, the tide changes from the classical operas of Tchaikovsky to hip, trendy bands and from concerts to gigs. Bohemian cafes, art galleries and underground clubs are rife in the once-communist city. Alongside these contemporary delights lie the fantastic, old Rastrelli architecture and buildings like the imposing Mikhailovsky Castle, a bizarrely bulky creation designed to keep assassins from Tsar Paul I.
The Hermitage Museum is only one of St. Petersburg's many museums, but this fantastic collection of art treasures is undoubtedly a must see for any visitors to the city. Housed in the once-home of the Romanov Tsars who ruled the Russian Empire, the magnificent State Hermitage is a unique and wonderful museum.
Pushkin's poem immortalised the bronze statue of Peter the Great forever. This statue, featuring the mounted Peter rearing over the head of the snake of treason, is another popular attraction within St. Petersburg. It took 12 years for Frenchman Etienne Falconet to sculpt, and is inscribed with a message from Elizabeth II, who commissioned it.
There is no doubt that St. Petersburg, with its wonderful architecture and modern sights, is a city to be visited. Hosting an army of wonderful restaurants and fantastic hotels, it is a visitor's dream, whether they come for the culture or the bohemian scene.
There are frequent flights from London Gatwick to St. Petersburg .