London Gatwick to Marseille Cheapest Fares
To search and book flights to Marseille, please enter your travel requirements in the search form above, and click the search button.
France's Oldest City is Young at Heart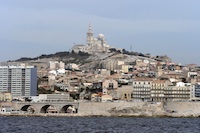 British Airways flies regularly from London Gatwick to MRS Marseilles, a renowned port on the Mediterranean Sea and France's oldest city, which is full of energy. Its mix of southern European and African cultures is best experienced in the street markets thronged with stalls and bazaars and its centuries old fish market.
It is a tourist paradise, full of amusements and cultural attractions ranging from museums, cinemas, historic churches, and old buildings. Marseilles hosts many events throughout the year such as Avec le Temps in spring, which offers concerts by French artists. The Blue Festival in June shows many concerts, movies, and exhibitions, and as the name implies the theme is the colour blue. In September, the Marsatac takes place, a music festival that has provided music from Noevelle Vague, Aphex Twin, and Peaches to name a few while at Christmas is the La Foire aux Santons, a picturesque Christmas market that is home to santons, terracotta figurines used in the popular nativity scenes.
As well as visiting the docks and the old harbour, do not miss the Museum of Archaeology or Notre dame de la Garde, a big church overlooking the city where fisherman used to have their boats blessed. If tired after sightseeing, relax in le Cours Julien and la plaine where you will find cafes and bookstores and a playground for youngsters and a market every Thursday and Saturday morning
A quick way to tour the city is by bicycle and Marseilles has a reasonable cycle hire scheme and plenty of cycle paths to get you around the city easily.