London Gatwick to San Francisco Cheapest Fares
To search and book flights to San Francisco, please enter your travel requirements in the search form above, and click the search button.
Nostalgia at Christmas with the Great Dickens Christmas Fair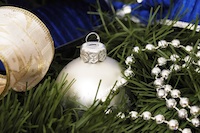 San Francisco is a great American city for alternative cultures and people who like to go with the flow. However, one of its most popular events is one that hearkens back to old traditions.
The Great Dickens Christmas Fair takes place every year in San Francisco, near San Francisco International airport. The event lasts for about one month, right around Christmas time. It continues on through Christmas. The Great Dickens Christmas Fair is held in the Cow Palace Exhibition Hall, a huge building that hosts all of the fair's festivities.
This celebration serves two purposes. First, it's a Christmas celebration. The activities and events allow for Christmas shopping, show off beautiful Christmas decorations, and fill the hall with traditional Christmas music. However, the fair also celebrates the literary works of Charles Dickens. The settings and lifestyles of Charles Dickens' time are accurately reproduced in the fair. Entertainers and vendors dress up as Charles Dickens characters or in period-appropriate costume. People who attend the event are encouraged to dress up as a Dickens character or to dress in clothing from that time period.
Some of the excitement at the fair comes from the Christmas delicacies and holiday drinks that are sold. Also featured at the fair are singers, dancers, actors, and vendors that can help out with Christmas shopping. Visitors who travel to San Francisco International from London Gatwick will be closely located to the fair, making getting there very easy. Nearby hotels also accommodate local and international guests for the event.