London Gatwick to Tenerife Cheapest Fares
The lowest fare found from London Gatwick (LGW) to Tenerife (TFS) was £112 with EasyJet. The fares shown here are the lowest flight prices to Tenerife obtained in actual searches by Just The Flight customers. To search and book flights to Tenerife, please enter your travel requirements in the search form above, and click the search button.
Party in Tenerife During Carnival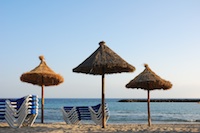 The celebration of Carnival in Santa Cruz de Tenerife is one of the most exciting events in the world, and makes the Canary Islands a must-visit destination every February. Each year millions of people flock to the beautiful island and take to the streets of the city to enjoy some of the most wild, wonderful and colourful celebrations of their kind in the entire world, second only to Rio de Janeiro's historic and renowned Carnival festivities. The celebrations last for well over a week as the area offers one of the largest street parties in Europe.
The historic city of Santa Cruz de Tenerife is a fantastic destination at any time of year because of the warm climate, the authentic island culture fused with Spanish influences, and the white sandy beaches that draws millions of tourists each year. However, it is during Carnival when the streets of the city truly come alive with colourful and brilliant parades and costumes, street dancing in bright and elaborate dress, and parties that will continue on the streets from Friday until Ash Wednesday. Despite the official end of Carnival being that day, the parties continue the next weekend with dancing, merrymaking and plenty of fun for everyone.
Carnival is one of the most wild, exciting and anticipated parties in the entire world, and Tenerife is the perfect place to celebrate this magical event. It has been named one of the best events for tourists year after year and continues to grow in popularity. Tenerife Sur Reina Sofia from London Gatwick flights are offered throughout the year for visitors looking to soak up a little sun, or party in the streets.