London Gatwick to Vienna Cheapest Fares
To search and book flights to Vienna, please enter your travel requirements in the search form above, and click the search button.
A Weekend in Vienna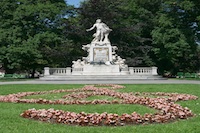 Known for its culture, Vienna is home to some of the best museums, monuments, and concert halls in the world. It is also home to plush hotels and modern high-rise buildings. Austria's bustling city is well-known for the likes of Beethoven and Mozart and remains a cultural icon.
The city is also renowned for its many world-class concerts. During holiday seasons, Vienna displays its talents with the best symphonies and concerts in the world. To fly to Vienna from London Gatwick you only need to choose a time, as there are many flights to accommodate even the busiest schedules. Once landing in Vienna, a jaunt to downtown via an airport bus or S-Bahn train will be simple. Taxis are also an option. In the centre, trains, buses, subway lines, and trams are available to get you around. There are also many places where you can rent bicycles for something a little different.
With a population of more than 1.5 million, the city boasts continual events and festivals. Some of the more lively events include the Donauinselfest, which has become Europe's largest pop music festival. The entrance for this three-day June festival is free. This is also the same month Vienna hosts one of the leading jazz festivals in the world. The Jazz Festival Vienna attracts thousands of visitors who enjoy the sounds from the beautiful Vienna State Oprah House.