London Gatwick to Zurich Cheapest Fares
To search and book flights to Zurich, please enter your travel requirements in the search form above, and click the search button.
The Alpine Majesty of Zürich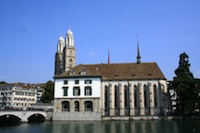 Zürich offers travellers the chance to combine some of Switzerland's finest cultural and historical sites with the opportunity to experience beautiful Alpine scenery and nature. In June, the annual Zürich Festival offers world-class performances from international stars, theatre acts, classical music artists, opera singers, dancers and more. Fly out from London's Gatwick Airport to the city all year round for an ever-changing programme of exciting events.
The beautiful landscape around Lake Zürich is perfect for hikers, with stunning scenery and a wide range of wildlife to spot. Many beautiful historical villages and towns are within easy reach of the lake, making Zürich the perfect base for an exploration of the whole region. Travellers can also climb the Uetliberg Mountain, which offers breathtaking views of the city from its summit. In November, a low mist often hovers below the mountain's peak, giving the summit an especially romantic, sublime atmosphere.
The city of Zürich itself has a lot to offer, with beautiful historical buildings such as the Fraumünster and Grossmünster churches, and the narrow, picturesque Augustinergasse street, filled with interesting shops. For more shopping, Niederdorf is a fully pedestrianised area with many individual boutiques and hip bars hidden among its winding alleyways. Visit the Cabaret Voltaire, the legendary birthplace of Dadaism, or see the nearby house where Lenin stayed while in exile, plotting the Russian Revolution. Art lovers will also find plenty to enjoy at the wide range of museums and galleries within the city. In the evenings, Zürich is host to some of Switzerland's hottest nightlife, with a range of bars, clubs and fantastic restaurants.