London Heathrow to Accra Cheapest Fares
To search and book flights to Accra, please enter your travel requirements in the search form above, and click the search button.
Discover a Premier Marathon Event in Accra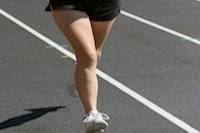 Travellers to Accra, Ghana, can enjoy a world-class marathon every September. It features a full marathon, a half marathon and a team relay race. With many international participants, the 26 mile race begins in Prampram, a beach town to the east of the city. From Prampram, the race continues through the port of Tema, and finishes at the La Pleasure Beach Hotel.
Ghana is considered the friendliest nation in Africa, possessing a rich historical heritage, broad cultural diversity, and incredible wildlife, and its capital city is truly the jewel in Ghana's crown. Located on the Gulf of Guinea near the Atlantic Ocean and considered the economic, communications and administration centre of Ghana, it is one of the wealthiest and most modern cities in Ghana. Its many charms include a National Museum, National Theatre, Independence Square, Kwame Nkrumah Mausoleum, Accra International Conference Centre, Makola Market and Jamestown, a fishing port.
September is one of the mildest months of the year, so many of the local festivals occur during this time, offering other opportunities for holiday fun for those who travel to watch or participate in the marathon.
The International Marathon is primarily a fundraiser to support the efforts of the Longevity Project. The mission of the Longevity Project is to increase the life expectancy of the people of Ghana, as well as the general quality of life.
British Airways operates direct flights to Accra from London Heathrow with connecting flights provided by Virgin Atlantic.