London Heathrow to Amman Cheapest Fares
To search and book flights to Amman, please enter your travel requirements in the search form above, and click the search button.
Historical Amman, Jordan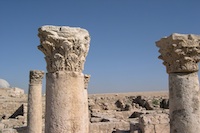 Rarely will you find a more perfect combination of ancient history and modern culture than in the city of Amman. This capital of Jordan remains one of the oldest cities in the world, and has been continuously inhabited for hundreds of years.
While on a flight from London Heathrow to Amman, think of tiny cafes, kebab stalls and radiant white houses that you are about to encounter, where locals sip Arabian coffee in the afternoon sun. This energetic city, which is more than 5,000 years old, is located amongst hills, which gives it an interesting appeal.
One of the first things visitors will notice is that Amman is without typical city skyscrapers. Instead, you will find that the buildings are of one height and for the most part, they all look the same; however, each provides a unique addition to the landscape.
From the age of the city, tourists can already guess that most things worth seeing here will be historical in nature. The city is not noted for for lively nightlife but it does hold some interesting sights.
One of the most obvious attractions is the Roman Theatre built from 138-161 AD. Nearby is the Nymphaeum, an ornamental fountain that dates back to 191 AD. The Grand Husseini Mosque, which was built in 640 AD and is made of striking pink and white rock, is worth a stop, especially at night. The ruins of Irqu El-Amir, which means Cave of the Prince, is another historical site dating back to the second century AD and is definitely worth visiting.