London Heathrow to Stockholm Cheapest Fares
To search and book flights to Stockholm, please enter your travel requirements in the search form above, and click the search button.
Take a bite out of Stockholm!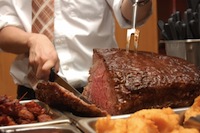 Stockholm exhibits its passion for fresh produce, innovative culinary creations, and organic food at the Taste of Stockholm festival every year. Running consecutively for over 20 years now, the Taste of Stockholm is a way for food-lovers from around Sweden and the region to come together and experience the latest exciting endeavours in food, drink, wine and produce. With a focus on sustainable agricultural and living, the festival brings together a mixture of traditional Swedish cuisine with exotic dishes from many different culinary hubs around the world.
Held in the historic King's Garden, over 25 Stockholm restaurants will be showcases their food every year. The best chefs in Sweden will participate in the Chef Duels, a series of challenges between some of the best chefs in the country who face-off in front of a crowd of onlookers. The Taste of Stockholm is one of the largest events in all of Stockholm, drawing crowds of thousands from around the world each year. As such, the festival is very conscientious about being environmentally responsible, both in what kinds of food and produce they display and in how they run the festivities.
The event is also renowned for the many new, up-and-coming artists who give performances in Stockholm during the Taste of Stockholm. Some of these artists have gone on to successful careers, and each year a whole new crop of artists will be performing for record-breaking crowds. Stockholm Arlanda is a wonderful culinary destination with daily flights from London Heathrow.