London Heathrow to Copenhagen Cheapest Fares
To search and book flights to Copenhagen, please enter your travel requirements in the search form above, and click the search button.
Jazz it up in Copenhagen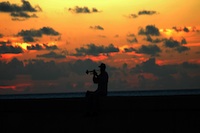 Copenhagen Jazz Festival is the highlight of every jazz fan's calendar and is one of the largest jazz festivals in the world. Attracting some of the world's most famous artists as well as lesser known up and coming stars, the festival attracts nearly half a million visitors every year in the first week of July, many making the easy trip from London's Heathrow. The festival takes over Denmark's capital with over 100 venues playing host to over one thousand concerts.
While there are numerous paid for events in Copenhagen's concert halls and music venues, what makes the festival really special is the large number of free outdoor concerts which ensure that the whole city is involved in the festival. As well as parks and gardens, concerts take place in some unusual venues such as an old East German trawler boat.
The festival has been running for over thirty years and the aim of its organisers is to showcase home-grown talent as well as some of jazz's biggest names. The goal is to have around 30% of international artists, meaning that around 70% of the programme's artists are Danish, playing everything from traditional jazz through to improvised works. This focus on national artists ensures that Denmark's jazz musicians are able to reach a large international audience.
The city is rightly proud to host such an international showcase for some of the most exciting musicians around.