London Heathrow to Denpasar Bali Cheapest Fares
The lowest fare found from London Heathrow (LHR) to Denpasar Bali (DPS) was £598 with Garuda and Business Class was £1938 with XiamenAir. The fares shown here are the lowest flight prices to Denpasar Bali obtained in actual searches by Just The Flight customers. To search and book flights to Denpasar Bali, please enter your travel requirements in the search form above, and click the search button.
Get to Bali During Galungan For an Exotic Experience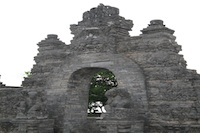 Bali is known for an abundance of things: spectacular natural sites, pristine beaches, archaeological remains, pulsing nightlife and exotic local flavours. Few tourists who come to Bali are interested in looking beyond the lushness and understanding the richness of local culture. Those looking for some insight into local customs should consider visiting this destination during Galungan. It's a great chance to discovery the spiritual side of Bali.
Galungan takes place every 210 days and involves various ceremonies and special meals during festivities, as Balinese families prepare for the rites with festive rice cakes, packets of incense, and intricate decor. Streets are adorned with bright flowers, towering bamboo poles, and penjor, or coconut leaf scrolls decorated with vivid colour and pieces of fabric. Tourists can experience a spectacle of dances, gongs, drums, and barongs, costumes and puppet-heads, as good triumphs over evil during the magnificent occasion.
Galungan may be the best time to visit Bali's public temples, which welcome local Balinese people and tourists alike, as the ancestral spirits come to rest and dwell with local Balinese families, and women put on traditional dress while children provide offerings and feastings.
Visiting Bali during Galungan offers an interesting insight into the local culture and a time of reverence and respect, while the Balinese solemnly petition their spirits for stability, balance and happiness in their homeland. To arrive in time for Galungan, UK tourists can depart to Denpasar Bali from major UK cities like London Heathrow using a variety of charter flights and scheduled carriers. Consult the Balinese wuku calendar for Galungan dates.