London Heathrow to Dusseldorf Cheapest Fares
To search and book flights to Dusseldorf, please enter your travel requirements in the search form above, and click the search button.
Classical music comes to Dusseldorf annually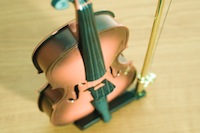 Dusseldorf is a city that prides itself on it's musical heritage. Every year, multiple concerts and events are held throughout the area to focus attention on the classical and contemporary musicians and composers who have touched the world with their beautiful music. Every summer one of these highly anticipated classical music festivals comes to Dusseldorf. Schumannfest celebrates the romantic music of 19th-century composer Robert Schumann, one of the most revered musicians to come from the area.
Following the success of the Schumannfest in recent years, the music festival is returning to the historic German city again with even more concerts and a larger audience expected. Concerts and musical performances, as well as other events celebrating this era of music, will be held over a two week period of time.
Robert Schumann is one of the greatest German composers of all time. His work is famous throughout the world and he is most remembered for his romantic songs and compositions that have remained favourites of music lovers for decades. Many important composers have been influenced by Schumann's music since his death.
Some of the German-born composer's most well known pieces are Paradise and the Peri, Carnaval, and Piano Quintett. Schumann moved to Dusseldorf in 1850, and lived there for many years, composing many of his most famous pieces in the beautiful German city.
Germany is right at the heart of the classical music scene. Hundreds of thousands of people come annually to Dusseldorf and other historic cities to absorb the Old World elegance of the area and to celebrate the classical music that was such a part of the fabric of the city's culture. Visitors can take in the historic districts of Dusseldorf as well as the more modern sections that offer something for everyone.
Dusseldorf has loads of festivals and fairs throughout the year with daily flights from London Heathrow.