London Heathrow to Edinburgh Cheapest Fares
To search and book flights to Edinburgh, please enter your travel requirements in the search form above, and click the search button.
Visit the Scottish castles in Edinburgh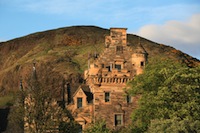 Edinburgh provides a mix of both traditional and modern Scottish culture, with stunning natural views and historical buildings to take advantage of. Elegant and interesting, the city has a lot to offer in terms of things activities and attractions.
There are so many shops, bars, and restaurants to visit, entwined within the long winding streets, that you will never be stuck for somewhere to go. Edinburgh Festival Fringe is the largest arts festival in the world, and takes place at various venues in the area every August. It is perfect if you love music, theatre, dance, and comedy. Flights to Edinburgh from London Heathrow leave on a regular basis and take a very short time, making it an attractive place to visit.
Edinburgh Castle is an iconic and intentionally famous landmark in Scotland and is ideal for history buffs. It is located in the city centre so is easy to travel to and well worth a visit. Craigmillar Castle is another attraction in the area and is a beautiful monument, still well preserved to this day.
You can take a guided sightseeing tour around the city or book yourself a seat at a live music show in the evening to enjoy the local talent or some famous British acts on their national tour. The markets are well worth visiting, as you may find a bargain, while the shopping centres will provide a wide range of stores to suit varying tastes and budgets.