London Heathrow to Gothenburg Cheapest Fares
To search and book flights to Gothenburg, please enter your travel requirements in the search form above, and click the search button.
Gothenburg, Sweden's Hippest City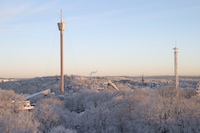 Gothenburg, the second largest city in Sweden, is fast becoming an attractive destination for discerning travellers using regular flights from London Heathrow. The centre of the city is compact and easily accessible by foot, with a fantastic array of attractions to visit. Once the seat of Sweden's industrial economy, Gothenburg is now transforming itself into a cultural and sporting centre known for its innovative cuisine, emphasising local produce, especially fish and shellfish.
Visitors can seek old-fashioned thrills at Liseberg, the largest amusement park in Northern Europe, famous for the beauty of its Balder rollercoaster, the longest, and arguably the most beautiful wooden rollercoaster in the world. Christmas celebrations at Liseberg are especially popular, as the park offers a traditional Christmas market, ice skating, and other seasonal attractions.
In the centre of Gothenburg, as well as a wide range of shops and boutiques, visitors will find a range of cultural highlights including the Gothenburg Opera and the Gothenburg Art Museum, which boasts a marvellous collection of Scandinavian art. Nearby, the Röhss Museum of Design and Applied Art contains an unrivalled history of Swedish design.
Central Gothenburg is also home to the 150-acre Botanical Gardens, a haven of nature in the middle of the bustling city. Visitors can also experience world-class fine dining the restaurants near the Göta Älv River, or visit the Fish Market, known as the Fish Church (Feskekörka) because of the cathedral-like shape of the building in which it is housed. Gothenburg offers a wide range of cultural, historical and gastronomical attractions for travellers seeking new and exciting experiences.