Cheap flights to Hamburg (HAM) from London Heathrow (LHR)
Book flights to Hamburg
London Heathrow to Hamburg Cheapest Fares
The lowest fare found from London Heathrow (LHR) to Hamburg (HAM) was £86 with British Airways. The fares shown here are the lowest flight prices to Hamburg obtained in actual searches by Just The Flight customers. To search and book flights to Hamburg, please enter your travel requirements in the search form above, and click the search button.
More to Hamburg Than Meets The Eye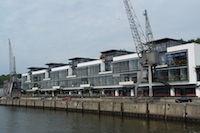 Suggesting Hamburg as a holiday destination might still be met with quizzical looks and raised eyebrows but the fact is that a lot has changed since the days of the drab and dreary background which was used to film the hit 1980s TV series Auf Wiedersehen Pet.
Hamburg is a large city on the banks of the impressive River Elbe, it's harbour has the honour of being the fourth largest in Europe and is able to accommodate ships of all sizes. It is seen as a powerful shipping hub and maritime centre. The remainder of the city is a subtle blend of old and new, rich and poor, all living together and producing a unique atmosphere in the way that only port cities seem to be able. Market areas abound in the city; from the super modern to the more 'urban' there is something here to suit all tastes.
Aside from the port, the landmark of the city is the 132-metre-high tower of St. Michaelis and from its top you are afforded a splendid view of the port and city. Visitors can admire the historic Storehouse City close-by, or simply relax in one of the many cafés in the area. A trip to Hamburg offers a chance to view a fully-working port city which evokes memories of far off lands and forgotten times. With flights direct to Hamburg from London Heathrow it is as accessible as it is nostalgic and fascinating.
Cheap Flights
The best prices our customer have found to Hamburg from London Heathrow in the last 7 days
London Heathrow
Hamburg
£86

London Heathrow
Hamburg
£142

London Heathrow
Hamburg
£147

London Heathrow
Hamburg
£156

London Heathrow
Hamburg
£162

Direct Flights
The cheapest direct flights to Hamburg from London Heathrow found in the last 7 days
London Heathrow
Hamburg
£86