London Heathrow to Kingston Cheapest Fares
The lowest fare found from London Heathrow (LHR) to Kingston (KIN) was £931 with Delta and Business Class was £2559 with Virgin. The fares shown here are the lowest flight prices to Kingston obtained in actual searches by Just The Flight customers. To search and book flights to Kingston, please enter your travel requirements in the search form above, and click the search button.
Kingston, the Heart of Jamaica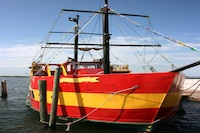 Kingston was, for a long time, the only city in Jamaica. This history is reflected in the city's continuing status as the island's trend setter and cultural heartland. The city is a bustling haven, packed full of interesting sights, sounds and tastes for travellers to experience.
For Film buffs and lovers of the 'Pirates of the Caribbean' series, Kingston offers Port Royal, the original pirate haven where the notorious Sir Henry Morgan struck against Spanish ships to capture their gold. Visitors can learn more about the history of piracy at the Port Royal museum. Music lovers, however, may prefer to visit the Bob Marley Museum in Kingston, located in the singer's actual house, full of his personal belongings and items associated with his music. The house is still marked by bullet holes from the attempted assassination of Bob Marley in 1976.
In the evening, follow the music to Red Bones Blues Café, an expensive but enjoyable bar with live music, which serves delicious Jamaican fusion food. The inspirational Devon House, home to Jamaica's first black millionaire, is also well worth a visit as an outstanding example of Jamaican architecture and style. Devon House also contains the city's best and most famous ice cream parlour. For an unforgettable night of partying, take a boat to Lime Kay, arrange to be picked up in the morning and camp overnight in a location made famous by the film 'The Harder they Come'. Flights to Kingston run regularly from London's Heathrow Airport giving travellers an easy route to taste the exotic.