London Heathrow to Orlando Cheapest Fares
The lowest fare found from London Heathrow (LHR) to Orlando (MCO) was £357 with Lufthansa and Business Class was £1599 with Air Canada. The fares shown here are the lowest flight prices to Orlando obtained in actual searches by Just The Flight customers. To search and book flights to Orlando, please enter your travel requirements in the search form above, and click the search button.
A non-despicable attraction at Disney Orlando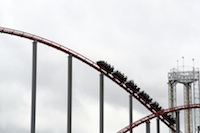 Florida in the United States is home to chills, thrills and wild rides galore. Disney Orlando attracts millions of international visitors every year. With five theme parks to choose from in Orlando alone, there is more to see and do than can be done in one lifetime. In the summer of 2012 there will be a new addition to Orlando's famous theme parks.
The popular American film "Despicable Me" has inspired a new attraction at the world famous park. Gru, the film's super-villain turned father-figure is moving his three adopted daughters to his new headquarters in Universal Studios. In order to carry out his nefarious plans, he is turning the park goers into "minions", and training them to assist him as they move through the attraction.
Holidaymakers can visit Gru's "secret lab" and join in with an interactive dance party along the way. Orlando's famous Disney attractions are among the most popular theme parks in the world. Holidaymakers to Orlando from London should expect helpful, friendly staff and long lines for the most popular rides.
An EZ Pass system allows holidaymakers quicker entry to some of the rides. The ticket machines can be found near the rides and distribute a pass allowing holders entry through a special gate at a specific time. Visitors should plan to gather the EZ Pass tickets for the rides they most desire to visit, to avoid hours standing in queues.
Another popular activity while in Orlando is collecting and trading themed pins. Literally thousands of movie and character-themed designs are sold around the park.