Cheap flights to Miami (MIA) from London Heathrow (LHR)
Book flights to Miami
London Heathrow to Miami Cheapest Fares
The lowest fare found from London Heathrow (LHR) to Miami (MIA) was £291 with KLM and Business Class was £1985 with Aer Lingus. The fares shown here are the lowest flight prices to Miami obtained in actual searches by Just The Flight customers. To search and book flights to Miami, please enter your travel requirements in the search form above, and click the search button.
Love Tennis, Love Miami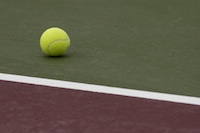 The Miami Masters or 'The Winter Wimbledon', as it was known at first, was the brainchild of Butch Buchholz, the former director of the Association of Tennis Professionals. His vision was to make Miami the venue for a world-class two week tennis tournament. The first tournament took place in 1985 and it now takes place in March in a purpose built venue with eighteen hard courts in Crandon Park in Key Biscayne, just outside Miami. There are regular daily flights from Heathrow to Miami and the venue is not far from the airport. Crandon Park boasts one of the biggest tennis stadiums in the world, Stadium Court, which seats over 13,000 spectators. This court is the venue for the tournament's final matches.
Since its inception, the tournament has attracted the world's top players and huge crowds. While the Miami Masters are not part of the 'Big Four' Grand Slam tournaments (which are Wimbledon, the French Open, the US Open and the Australian Open), it has for many years been acknowledged as a leading competition in the calendar of tennis's best professional players who tour the world to compete in mandatory events to increase their ranking or seeding. The Masters are on both the men's and women's tours. For the men, the Miami Masters has been an ATP World Tour Masters 1000 event since 1990 and, for the women, it has been classed as a Premier Mandatory tournament since 2000.
Cheap Flights
The best prices our customer have found to Miami from London Heathrow in the last 7 days
London Heathrow
Miami
£291

London Heathrow
Miami
£321

London Heathrow
Miami
£326

London Heathrow
Miami
£326

London Heathrow
Miami
£327

Direct Flights
The cheapest direct flights to Miami from London Heathrow found in the last 7 days
London Heathrow
Miami
£291

London Heathrow
Miami
£321

London Heathrow
Miami
£337

London Heathrow
Miami
£337

London Heathrow
Miami
£371

Business Class
The cheapest business class flights to Miami from London Heathrow found in the last 7 days
London Heathrow
Miami
£1985

London Heathrow
Miami
£2166

London Heathrow
Miami
£2220

London Heathrow
Miami
£2714

London Heathrow
Miami
£2773