London Heathrow to Malta Cheapest Fares
To search and book flights to Malta, please enter your travel requirements in the search form above, and click the search button.
Malta's Annual Jazz Festival Brings the Bop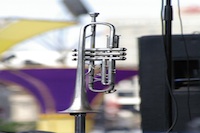 One of the most acclaimed jazz festivals worldwide, Malta's annual Jazz Festival is a hot destination for being on the cutting edge of some of the world's most adventurous music.
The Malta Jazz Festival takes place beside the sea, in the city of Valletta. Jazz artists and fans from all over the world congregate in Valletta. Traditionally held annually on the third week of July, the Malta Jazz Festival appeals to anyone who loves music and wants to be in on the latest sounds.
The Malta Jazz Festival prides itself on being eclectic, so a trip there will also ensure a variety of music. Whether your taste is for old school bebop or contemporary electronic, the Malta Jazz Festival will quench your musical thirst. From traditional to ultra modern to somewhere in between, your taste will be catered to, as long as you like it jazzy. The international reputation of the Malta Jazz Festival grows every year. Past artists who have taken part in the festival include the legendary saxophonist Wayne Shorter, as well as the iconic guitar player Al Di Meola. This is just two names out of the whole host of renowned acts who have visited the Malta Jazz Festival.
With numerous cheap and direct flights daily to Malta from London Gatwick by Air Malta, United Kingdom residents can get to the festival in a little over four hours. This is all the time you need to take a trip around the musical world.