London Heathrow to Mauritius Cheapest Fares
The lowest fare found from London Heathrow (LHR) to Mauritius (MRU) was £548 with Kenya Airways, the cheapest direct flight was £671 with Air Mauritius, while Business Class was £1697 with Lufthansa. The fares shown here are the lowest flight prices to Mauritius obtained in actual searches by Just The Flight customers. To search and book flights to Mauritius, please enter your travel requirements in the search form above, and click the search button.
Experience the Chinese New Year Celebration in Mauritius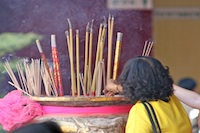 Mauritius is home to many colourful celebrations that include Muslim holidays, Christian celebrations and Hindu festivals. One of the most popular celebrations occurs on Chinese New Year, also known as the Chinese Spring Festival.
Visitors wishing to attend this event can expect it to fall during either January or February each year. Expect the exact dates to vary from year to year due to the differences in the Chinese and Western calendars. Regardless of the date, visitors will be glad they decided to take the trip from London Heathrow to Mauritius to experience this amazing celebration.
The bigger cities are more likely to have well-attended Chinese New Year events. One of the first things that travellers will notice is the amount of red used in the decorations. This colour is used in abundance because it symbolises happiness in Chinese culture.
Much of the celebration takes place in family homes and, if you are lucky, you may be invited to visit a local family to share in their home celebrations. A large dinner is served, and firecrackers are set off following the meal.
Most of the pagodas are open to visitors, and during this time many of the locals visit the pagodas to offer prayers for the coming year. When entering a pagoda, visitors should remember to remove their shoes and show respect for those who are praying.
At the end of the festival, a Dragon Dance is held. This is the event that most westerners associate with Chinese New Year, and involves dancers in a dragon costume. The Dragon Dance traditionally marks the end of the celebrations.