London Heathrow to Paris Cheapest Fares
The lowest fare found from London Heathrow (LHR) to Paris (PAR) was £71 with British Airways and Business Class was £310 with British Airways. The fares shown here are the lowest flight prices to Paris obtained in actual searches by Just The Flight customers. To search and book flights to Paris, please enter your travel requirements in the search form above, and click the search button.
Springtime in Paris, anyone?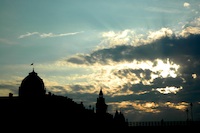 Known as the most romantic capital city in the world, and with timeless attractions such as the Eiffel Tower and the Arc de Triomphe, Paris attracts millions of visitors every year from across the globe. Shopping, dining and whiling away the hours people-watching on the Champs Élysées are just some of the pastimes Parisians have perfected. But they have also mastered the art of the festival, with some fantastic treats for all throughout the year.
For starters, every March Paris is alive with the Printemps des Poètes, displaying anything and everything from the world of poetry. During springtime over 5,000 events take place in the capital's museums, cafés, schools and streets. Many of the events are free, and are a surefire way to really get under the skin of Paris in its finest season.
Or how about the social phenomenon that is La Fête de la Musique? Every June, every genre of music fill the streets and major venues of Paris. From rock concerts in the Place de la Republique, to a classical orchestra in the courtyard of the Palais Royal, there is something to suit everyone's taste. Established in 1982, the Fête de la Musique has proven such a hit it has been replicated in cities such as New York and San Francisco. Oh yes, and it's all free. What better reason is needed to visit this enchanting city?
British Airways and Air France schedule a selection of daily flights from London Heathrow to Paris, and with a journey time of just 1 hour and 15 minutes, this festival loving city is on your doorstep.