London Heathrow to San Francisco Cheapest Fares
To search and book flights to San Francisco, please enter your travel requirements in the search form above, and click the search button.
Enjoy the San Francisco nightlife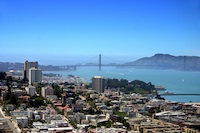 San Francisco is located in California, America, right on a bay, giving it naturally beautiful scenery. This attracts tourists from all over the world, along with its great shopping facilities, lively nightlife, and cultural events.
There are many flights to San Francisco International Airport from London Heathrow throughout the year. Every March, the San Francisco Flower and Garden Show takes place, with visitors coming to enjoy the picturesque scenes of plants with many shades of colourful petals.
The California Academy of Sciences offers a unique scientific experience with a planetarium, an aquarium, a natural history museum, and a rainforest. It is ideal for the whole family and a very interesting and educational day out. You can see some wildlife here and learn more about the world we live in.
The nightlife in the city is amazing, and always very busy. With countless bars and clubs to visit, the opportunities are endless. You can sample different cocktails whilst dancing to your favourite music. During the day, the shopping centres offer boutique stores, designer outlets, and antique shops, with something for everyone.
The Golden Gate Bridge is an iconic attraction of the city and is well worth going to see. The sheer size of it will have you in awe as it stretches across the length of the bay. It is particularly stunning at night, so get your cameras ready to take some holiday shots to remember. With a climate similar to the Mediterranean, you can enjoy a sunny holiday regardless of the time of year.