London Heathrow to Ho Chi Minh City Cheapest Fares
To search and book flights to Ho Chi Minh City, please enter your travel requirements in the search form above, and click the search button.
Ho Chi Minh City Has the Party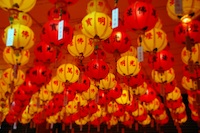 The best place to celebrate the Vietnamese New Year is Ho Chi Minh City, where they do it up right. If you want to see parades, parties and fireworks, and eat the finest Vietnamese food, then you want to be in Ho Chi Minh City.
One of the most festive events in the world, the celebration of Tet Nguyen Dan (also known as Tet) in Ho Chi Minh City in Vietnam is something worth travelling for. From the Western perspective, Tet is like New Year's Eve, Mardi Gras, Christmas and your birthday all put together into one celebration. Ho Chi Minh City residents decorate their houses, Vietnamese feasts abound, and presents are exchanged.
Any traveler who loves to party with a different culture will enjoy the scene at Ho Chi Minh City during the Vietnamese New Year. Starting sometime between mid-January and mid-February, the drums go on into the night, as dragon dancers weave their wiles. The traditional Vietnamese holiday favourite food, banh chung sticky rice cake, is available on every block. This amazing scene lasts for an entire week. Though celebrations are held throughout Vietnam, Ho Chi Minh City is the biggest of them all.
With flights to Ho Chi Minh City from London Gatwick at reasonable prices, United Kingdom residents have no excuse to miss out on the party.