Cheap flights to Singapore (SIN) from London Heathrow (LHR)
Book flights to Singapore
London Heathrow to Singapore Cheapest Fares
The lowest fare found from London Heathrow (LHR) to Singapore (SIN) was £386 with KLM, the cheapest direct flight was £448 with British Airways, while Business Class was £1705 with Swiss. The fares shown here are the lowest flight prices to Singapore obtained in actual searches by Just The Flight customers. To search and book flights to Singapore, please enter your travel requirements in the search form above, and click the search button.
Celebrate Chinese New Year in Style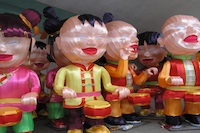 Singapore is clean, organised and easy to get to from Heathrow. It is unlike most of South East Asia except for during the two week festivities of Chinese New Year, when the whole city joins in the celebrations. There is a large Chinese expatriate community in Singapore but the event has grown to the extent that many native Singaporeans participate. Many people buy and wear new clothes and clean out their houses to symbolise out with the old and in with the new. Children are given little red packets of money, known as 'Hong bao' and families eat enormous banquets together at Reunion dinners.
The streets are lit with hundreds of red lanterns and the sound of traditional music wafts through the streets along with the delicious scent of sizzling treats from Singapore's many street vendors. Chinatown is really the place to be and is where the festivities kick off properly with the Chinatown Street Light Up. The streets fill with lion dancers, dragons and fire eaters. There are also dance routines from the female dancers weaving intricate patterns in the air with their giant fans.
The highlight of the festivities is the Chingay Parade where the streets fill with floats, dancers, enormous dragons, musicians and more. The acts are not all traditionally Chinese; there are samba dancers and Taiwanese acrobats, Ghanaian dance troupes and Singaporean firecracker dancers. This festival is increasingly being dubbed the Mardi Gras of the East.
Cheap Flights
The best prices our customer have found to Singapore from London Heathrow in the last 7 days
London Heathrow
Singapore
£386

London Heathrow
Singapore
£386

London Heathrow
Singapore
£408

London Heathrow
Singapore
£426

London Heathrow
Singapore
£448

Direct Flights
The cheapest direct flights to Singapore from London Heathrow found in the last 7 days
London Heathrow
Singapore
£448

London Heathrow
Singapore
£507

London Heathrow
Singapore
£562

Business Class
The cheapest business class flights to Singapore from London Heathrow found in the last 7 days
London Heathrow
Singapore
£1705

London Heathrow
Singapore
£1706

London Heathrow
Singapore
£1768

London Heathrow
Singapore
£1948

London Heathrow
Singapore
£2070