London Heathrow to Trivandrum Cheapest Fares
The lowest fare found from London Heathrow (LHR) to Trivandrum (TRV) was £442 with Gulf Air. The fares shown here are the lowest flight prices to Trivandrum obtained in actual searches by Just The Flight customers. To search and book flights to Trivandrum, please enter your travel requirements in the search form above, and click the search button.
See Some Art, Get Some Rays and Just Chill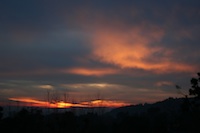 Thiruvananthapuram is an idyllic place to visit, located in southern India, it is rapidly gaining a reputation as a centre with a diverse range of exhibitions, festivals and other attractions.
The latest exhibition is the annual talent display run by the Fine Arts College, Trivandrum, the former colonial name for Thiruvananthapuram. This event always brings out the best in local creativity, so if you happen to be in the area why not pay a visit.
There are no direct flights to Thiruvananthapuram from London Heathrow, so it is necessary to do a little advance planning, to find the most convenient route for you. Typical journey times can be as long as 17 hours, but when you do arrive it will be worth it. Travel guides for this part of the world all sing the praises of this wonderful destination. Perhaps because it is not the easiest place in the world to reach it has managed to hang on to its beauty and traditions. The city is the capital of Kerala and you will find beautiful Pagoda-like buildings dotted around the area.
Many travellers use Thiruvananthapuram as the starting point for a beach holiday, inland exploration or even to discover the whole spiritual experience, staying at a local Ashram and learning how to meditate. Others have found nearby islands that offer Yoga courses. Whatever you choose to do during your stay, this is an idyllic part of India to spend some time in.