London Heathrow to Washington Cheapest Fares
The lowest fare found from London Heathrow (LHR) to Washington (WAS) was £1495 with British Airways and Business Class was £1495 with British Airways. The fares shown here are the lowest flight prices to Washington obtained in actual searches by Just The Flight customers. To search and book flights to Washington, please enter your travel requirements in the search form above, and click the search button.
Daffodil Festival Shows American Culture at its Best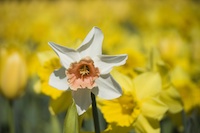 A great spring festival is a fun way to celebrate the passing of winter and the arrival of warmer winter. Nowhere is that more true than Washington. Washington welcomes the arrival of spring and beach season with their Daffodil Festival, an annual event that people wait for all year.
The Daffodil Festival is named for the beautiful daffodils that sprout up around Washington as the temperatures rise. The festival was created to celebrate the United States and its diverse and growing cultures. It also teaches guests about the state of Washington and all it has to offer. Since it is held in Pierce County, Washington, it also goes in depth about the history of Pierce County and the local area. Visitors coming to Washington from London Heathrow will have an easy time finding the Daffodil Festival.
People who attend the Daffodil Festival have many different spring activities to attend. Women can attend traditional tea parties, and there is a promenade as well. The Daffodil Festival first started in 1933, and many of the traditions are still the same. Parades with beautifully decorated floats take place throughout the whole festival. Local groups and schools make floats and compete for who has the best float.
Attendees of the Daffodil Festival can also watch the competition for Daffodil Queen, where young women from the area compete in various areas to become the next Daffodil Queen. Other court positions are appointed as well. The event is rounded out with a wide selection of local food and beverages.