London Heathrow to Zurich Cheapest Fares
To search and book flights to Zurich, please enter your travel requirements in the search form above, and click the search button.
Immerse Yourself in History Every Spring in Zurich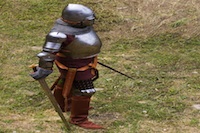 Travellers to Zurich in the spring have the opportunity to visit the Mittelalter-Spectaculum, or medieval spectacle, an annual medieval fair held in May.
Concerts, travelling tradesmen, dance groups and costumed performers all contribute to the authentic atmosphere.
Medieval fairs offer a delightful look at history and the opportunity to participate in or simply watch period games and competitive sports of the time. Skilled artisans, such as blacksmiths, carpenters, woodworkers, jewellers, costume makers, glassblowers and glaziers, showcase their work and wares at a variety of venues throughout the fair. Visitors will enjoy walking among the magicians and minstrels, jugglers and acrobats, jesters and fools, sword-fighters and fortune-tellers.
History is an important part of the event and remaining authentic to the period is paramount. Visitors use period eating utensils such as wooden cutlery, earthenware mugs and palm leaf platters, so simply sampling the food and beverages is a trip back in time. The Latin word feria, meaning holy day, is the origin of the word fair. Commerce and trade was the primary goal of the fairs, but entertainment was also vital for drawing crowds. Churches sponsored many medieval fairs and provided an important source of revenue.
The Mittelalter-Spectaculum takes place in Munsterhof square, next to the historic Fraumunster abbey, in the centre of the city.
Direct flights to Zurich from London Heathrow are operated by British Airways.