Liverpool to Jersey Cheapest Fares
To search and book flights to Jersey, please enter your travel requirements in the search form above, and click the search button.
Grassroots addition to music scene in Jersey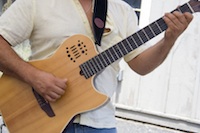 A recent addition to the music festival scene is attracting large numbers of music lovers to the Channel Island of Jersey, with a number of headline attractions both on the music programme and alongside the festival itself.
The Grassroots Festival is billed as an eco music festival, which very much taps into one of the main cultural themes of the current times, and in addition to the acts on stage, there is the opportunity to visit the eco village that has become part of the festival.
Jersey, in the Channel Islands, offers visitors a unique blend of both British and French cultures, as it is within easy reach of both these countries, although it is officially a British Crown Dependency. The Grassroots Festival is just one of many events on the island that attract large numbers of international visitors, although the success of the relatively recently founded festival is bringing it a certain amount of attention in the music world. Visitors to the island of Jersey from the north of England can also reach the festival easily, given the air connections that are scheduled to Jersey from Liverpool John Lennon airport, and the flights from Liverpool are sure to be popular when the festival is running in Jersey, in late July.
Jersey has long been known as a relaxing and beautiful holiday destination, and the Grassroots Festival adds to the attraction specifically for music festival lovers.