Cheap flights to Athens (ATH) from Manchester (MAN)
Book flights to Athens
Manchester to Athens Cheapest Fares
The lowest fare found from Manchester (MAN) to Athens (ATH) was £116 with EasyJet. The fares shown here are the lowest flight prices to Athens obtained in actual searches by Just The Flight customers. To search and book flights to Athens, please enter your travel requirements in the search form above, and click the search button.
Acropolis Tops Poll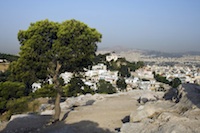 The Acropolis in Athens has topped a recent poll which asked tourists about their most popular tourist attractions in Greece. Also known as the Citadel of Athens, it is the best known acropolis in the world and is also recognised as the pre-eminent monument on the European Cultural Heritage list. With flights to Athens from Manchester, more and more people are taking the opportunity to witness this magnificence example of ancient Greek Architecture for themselves, immersing themselves in a time gone by and soaking in the history of this former state sanctuary. Although building originally began in the 5th century B.C. the site seemed to be popular long before this with archaeologists still finding new evidence relating to the history of the site to this day as it is revealed that the site was in use as far back as the Bronze Age when it was surrounded by a massive wall for fortification.
Truly one of the wonders of the modern world, the Acropolis, which includes its most famous buildings including the temple of Athena Nike, the Erechtheion, the Propylaia and the Parthenon, has featured in the long and colourful history of this Greek city. It has acted as a battleground, a museum and a 'theatre of memory' bringing all the varied eras of Athens together in one place. Make sure that it is at the top of your list for 'must see' attractions and let the mystery and history of the Acropolis draw you in as it has done so many others.
Cheap Flights
The best prices our customer have found to Athens from Manchester in the last 7 days
Manchester
Athens
£116

Manchester
Athens
£155

Manchester
Athens
£162

Manchester
Athens
£165

Manchester
Athens
£177

Direct Flights
The cheapest direct flights to Athens from Manchester found in the last 7 days
Manchester
Athens
£116