Manchester to Dusseldorf Cheapest Fares
To search and book flights to Dusseldorf, please enter your travel requirements in the search form above, and click the search button.
Discover Dusseldorf's Outdoor Family Friendly Fun Fair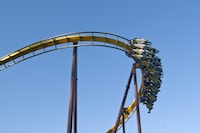 June is possibly the best time to visit Dusseldorf with the family, and locals will fill you in on the secret: in the middle of July the usually quiet city steps into the limelight for a full-fledged fun summer party. The 9 day 42 acre fun fair is over 110 years old and is still going strong.
Featuring an amusement park built right over the Rhine, lots of local cuisine and an enticing choice of 250 pubs in Dusseldorf's Old Town nearby, its state of the art roller coasters, rides, 3,000 marchers and performances that keep tourists coming back for more, the biggest Fun Fair on the Rhine is a must-visit for any tourist on German grounds. The event is known to draw in over 400,000 people, local and tourist, per day. Old meets young in Dusseldorf's delight of the senses. The fair goes from dusk to dawn, with something to do for absolutely any age. The temporary park is so well-done that it manages to outdo even permanent ones.
The Fun Fair is Dusseldorf's main seasonal attraction and travellers who come here to take part in the festivities are only a short distance away from other destinations like Cologne, Belgium and the Netherlands. Tourists from the UK can easily arrive in Dusseldorf from cities like Manchester or London. Dusseldorf International Airport is Germany's third largest, and there are non-stop scheduled and charter services available during the summer months and year round. Dusseldorf is a rapidly growing destination and is becoming a favourite pick among UK summer tourists.