Manchester to Hamburg Cheapest Fares
The lowest fare found from Manchester (MAN) to Hamburg (HAM) was £114 with EasyJet. The fares shown here are the lowest flight prices to Hamburg obtained in actual searches by Just The Flight customers. To search and book flights to Hamburg, please enter your travel requirements in the search form above, and click the search button.
The Countless Bridges of Hamburg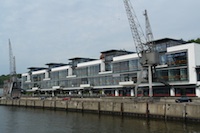 Hamburg, Germany is the second largest city in Germany with countless waterways, canals, rivers, and streams bisecting the city in many different directions. This cultural and shopping centre of Germany is also home to anywhere from 2300 bridges to over 2500 bridges crisscrossing the city at any given point.
Bridge and waterway aficionados can arrive in Hamburg from Manchester and begin a tour of some of the most notable waterway overpasses in the world. The oldest bridge in the city is called the Zollenbrücke and it was built in 1633. The second oldest crossing is known as Ellerntorsbrücke and it was erected in 1668.
Visitors in the port area will be in awe of the Köhlbrandbrücke Bridge with a central, cable-stayed span of 325 metres and a length of 3940 metres. Elsewhere in the port area is the Elbbrücken. This is a series of bridges standing next to one another in a modernistic design that evokes the image of a roller-coaster ride.
Notable bridges crossing the Elbe River include the Harburger Elbbrücke, which crosses the southern branch, the motorway bridge called the Moorfleetbrücke, and the highest lift bridge in the world, Katwyckbrücke.
Some of the bridges connect other parts of the city to the city centre. Twin bridges known as Niederbaumbrückees connect one end of the warehouse district whilst the Brooksbrücke, constructed in 1890, connects the other end to the city centre. In the city centre proper, the beauty of the Lombardsbrücke Bridge is enhanced by the functional modernity of the Kennedybrücke.