Cheap flights to Jersey (JER) from Manchester (MAN)
Book flights to Jersey
Manchester to Jersey Cheapest Fares
The lowest fare found from Manchester (MAN) to Jersey (JER) was £69 with EasyJet. The fares shown here are the lowest flight prices to Jersey obtained in actual searches by Just The Flight customers. To search and book flights to Jersey, please enter your travel requirements in the search form above, and click the search button.
The Allure of Jersey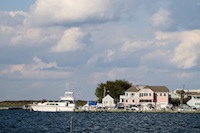 Airline carriers ferrying passengers to Jersey from Manchester take just one hour and twenty minutes to complete their direct flight. The short travel time is an attractive feature for those who prefer their holidays closer to home and for those reducing their carbon footprint in the world. The route is becoming one of the most popular amongst holiday travellers as more and more people are discovering the gorgeous British island as the perfect short break from everyday life.
Jersey offers marvellous attractions such as the Elizabeth Castle, Fort Regent Leisure, the Shell Garden, and the Gerald Durrell's zoo for sightseers. St. Helier is the main retail centre for shopping, and those who enjoy great food will find something to their liking in the many cafes and restaurants. Plan on walking excursions to explore the island or take one of the popular coach trips available. Families will enjoy the many activities and outdoor sports the island has to offer and singles can plan on entertaining nightlife in the area's nightclubs and pubs.
Since no one wants to spend more money than necessary, use these simple tips to get the best price on trips to Jersey. Avoid flights on Tuesday and Wednesday as they tend to be about 60 percent pricier than the flights leaving on Thursday and Friday. There are many choices of airlines depending on budgetary restraints. The low-cost carrier bmibaby offers two direct flights to the city daily while Flybe, British Airways, and Aurigny offer multiple one-stop flights per day. One-stop flight passengers can expect a travel time of one hour and 55 minutes.