Manchester to Johannesburg Cheapest Fares
To search and book flights to Johannesburg, please enter your travel requirements in the search form above, and click the search button.
Shop 'Til You Drop in Johannesburg!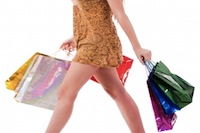 Johannesburg is the premier shopping destination in Africa, being a hub of fashion and retail activity on the continent. Every September the city is filled with exciting festivals to celebrate many different aspects of South African culture and products, including a widely popular art festival, tattoo festival, wine tasting experiences and the annual Soweto Festival. Along with these, South Africa hosts one of the most exciting retail festivals in the world each September when the Johannesburg Shopping Festival comes to the many retail shopping centres that are located throughout the historic, bustling city.
The shopping festival hopes to showcase Johannesburg as the jewel of Africa's shopping destinations. Over a dozen major shopping centres and retail locations hold incredible sales during the festival's dates, enticing people in with their quality products, discounts, sales offers, and other limited time events. Many shopping centres and retail shops outside of the city itself take part in the event as well. People from all over South Africa and the world seek to indulge in a little retail therapy, helping to boost South Africa's economy and establish the city as a premier shopping destination for young and old alike.
While the shopping festival is a great reason to come to the beautiful South African city of Johannesburg, it is not necessary to wait for the festival to experience the excitement of a visit to this city. The city offers something for everyone in the way of retail shops, from designer clothing to South African wares, from handmade, unique items to mass produced items of quality. Johannesburg is the perfect shopping destination with daily flights from Manchester.