Manchester to Kuala Lumpur Cheapest Fares
The lowest fare found from Manchester (MAN) to Kuala Lumpur (KUL) was £2133 with Saudi Arabian Airlines and Business Class was £2133 with Saudi Arabian Airlines. The fares shown here are the lowest flight prices to Kuala Lumpur obtained in actual searches by Just The Flight customers. To search and book flights to Kuala Lumpur, please enter your travel requirements in the search form above, and click the search button.
Celebrate One of Kuala Lumpur's Most Important Festivals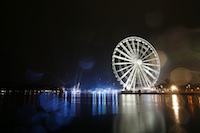 Hari Raya is a very important celebration for the Muslim residents of Kuala Lumpur. Malayans take a great deal of pride in their culture and are quite happy to share their celebrations with travellers. This festival falls at varying times, due to the differences in the Christian and Islamic calendars; however, it always falls at the end of the month of Ramadan, and lasts for a month afterwards. The festivities occur throughout the city of Kuala Lumpur, and particularly in the larger hotels and at the local mosques.
Hari Raya is a time of great importance to Malay Muslims. In honour of the holiday, many families host open houses, which offer an excellent way to socialise with family members and friends; as a part of the hospitality that is associated with the celebrations, visitors are often invited into these homes as guests. This allows travellers to experience Malayan culture first-hand. Some of the mosques also offer special programmes that visitors are invited to take part in.
Special night bazaars are opened in the city where visitors can buy delicious Malayan foods. The special foods are part of the feasting that takes place following the month-long daytime fasts of Ramadan. Another way to enjoy good Malayan food is to visit some of the larger hotel restaurants. Many of these restaurants offer large buffet feasts in honour of the holiday celebration.
A trip from Manchester to Kuala Lumpur to experience this festival is a once in a lifetime experience that will appeal to anyone interested in unique cultural celebrations.