Manchester to Larnaca Cheapest Fares
To search and book flights to Larnaca, please enter your travel requirements in the search form above, and click the search button.
Larnaca Summer Festival a great trip for the family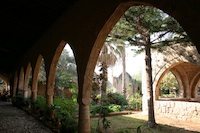 July is a time of celebration in Larnaca. Every summer, the city lights up with music, colour and dancing. Outdoor concerts fill the air with music and the medieval fort and Pattichion Amphitheatre come alive with performances.
International dancers, actors, musicians and poets flock to the festival annually to create a breathtaking array of entertainment, and this year looks to be no different. Visitors to Larnaca from Manchester should plan their visit two months in advance to avoid missing their chance.
The city is full of courtyards and forts and boasts a large Amphitheatre. All will be packed to the rafters as people gather from all over the world to join in the celebration and enjoy the various types of entertainment held throughout the festival. World renowned theatre plays will be held as well as concerts and dance shows.
Concerts will fill in the gaps as colourful costumed dancers line the streets. Poets will put on readings and international films will be screened. The festival is a celebration of culture and skill that will astound and amaze the thousands of international holidaymakers.
The Municipality of Larnaca is responsible for putting on the annual Larnaca Summer Festival. It is a source of great pride to the district, as the people have an opportunity to share their culture and their talent with the larger world. This year's Larnaca Summer Festival looks to be the best yet, with Cyprus' most talented performers joining with talent from all over the world.