Manchester to London Cheapest Fares
To search and book flights to London, please enter your travel requirements in the search form above, and click the search button.
Party in the Park in London town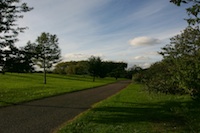 When is comes to a city like London, there are so many options for entertainment you really are spoilt for choice. From the West End's outstanding theatre and shopping district, to the East End's Brick Lane, where you will find amazing restaurants alongside cool bars and clubs, there is something for everyone in the square mile. One of the major festival events of the year, and believe me there are dozens to choose from, has to be the Wireless Festival. This 3 day event sees people flock in their thousands to Hyde Park in the centre of the capital, to experience this open air extravaganza with some of the world's best bands performing from noon 'til night.
The spacious venue is perfect, being surrounded by the lush greenery of the park you won't feel crowded, unless you want to enjoy the atmosphere at the edge of the stage. The Wireless Festival, like many London festivals, is family friendly, and children aged 2 and under go free. There are always a huge variety of musical acts throughout the festival, with sideline entertainment such as a party bus, several DJs and even a beauty and hair salon, for those who want to stay polished.
A stone's throw from Hyde Park is the renowned Covent Garden Market, a great destination for unique purchases, memorabilia, open-air music, street theatre, not to mention fantastic bars and restaurants.
BMI run a selection of flights everyday from Manchester to London Heathrow. With the flight time of one hour and an express train service taking you into the heart of London in 20 minutes, what are you waiting for?