Manchester to Malta Cheapest Fares
To search and book flights to Malta, please enter your travel requirements in the search form above, and click the search button.
The Malta Fireworks Festival Lights It Up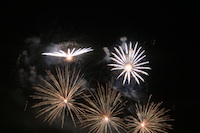 The Malta Fireworks Festival is a world class destination to see competing fireworks display. The magic of lighting up the sky is showcased front and center in Malta every spring. For beautiful scenery illuminated by magic, this is where you want to be.
Held each year in Valetta, Malta, the Malta Fireworks Festival sets leading fireworks technicians against each other in friendly competition. The Malta Fireworks Festival is a commemorative event for the people of Malta, as it is held in rememberance of the time when Malta became part of the European Union on May 1st 2004. So besides being a fun event, it is also very important to the people of Malta. There are a variety of fireworks categories, and the winner in each category is treated to a trophy as well as a cash prize. The Malta Fireworks Festival is for you if you want to see professional fireworks technicians giving it their all.
Because of the illuminating nature of fireworks displays, there are several locations throughout Valetta from which you can observe the competing fireworks displays. That being said, the best locations tend to be Ta' Liesse/Lascaris Wharf. If you can't stake out a spot there, the bastions around the city of Valetta will do just fine.
With at least one flight every day to Malta from Manchester, United Kingdom residents are only a few hours away from the Malta Fireworks Festival. Airlines like Air Malta, easyJet and Thomson give you numerous options for getting to Malta.