Manchester to Chicago Cheapest Fares
To search and book flights to Chicago, please enter your travel requirements in the search form above, and click the search button.
Experience Chicago's stunning skyline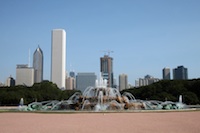 Chicago is a top American destination, and this is no wonder due to the spectacular skylines, bold nightlife and stunning pier. It has something to offer everyone, whether it's sports, music, shopping, theatre, sightseeing or nature.
The Comedy Festival on the final weekend of May brings together comedians from around the globe for stand up performances and sketches. Taking place at various venues, it provides a great source of entertainment for locals and visitors alike. Flights to Chicago O'Hare from Manchester are available all year around and many deals are to be had.
Millennium Park offers a diverse range of performing arts shows, including outdoor festivals and other events. Skydeck Chicago's The Ledge provides you with a unique opportunity to experience suspension over the city below with just a transparent glass sheet beneath your feet. At the 103rd floor, this will really help you conquer your fear of heights. Guided tours of the city are also available on a regular basis at very good deals.
Chicago has well over 7,000 restaurants to choose from, catering to all different tastes and budgets. The diverse range of international cuisines will leave you spoilt for choice. For shopping addicts, there are several department stores and quirky, fashion boutiques to visit. You can pick up one of many world famous designer labels here or search for a perfect gift for your loved one. The lakefront and skyline are iconic Chicago features that are well worth taking in and capturing on camera.