Manchester to San Francisco Cheapest Fares
The lowest fare found from Manchester (MAN) to San Francisco (SFO) was £297 with Delta. The fares shown here are the lowest flight prices to San Francisco obtained in actual searches by Just The Flight customers. To search and book flights to San Francisco, please enter your travel requirements in the search form above, and click the search button.
Alcatraz Tops Poll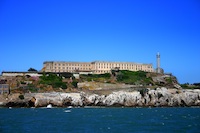 San Francisco, known for its steep, sweeping views, Haight-Ashbury, Golden Gate Bridge and cable cars has long been a favourite destination for travellers from the UK and with a direct flight to San Francisco from Manchester getting there has never been easier. Now, with the news that Alcatraz has been voted one of the top things to do in the city there is even more reason to head there for your next break.
Originally the site of a lighthouse and US fort on the West Coast of America, Alcatraz gained its reputation when it was converted to maximum security prison which would go on to hold some of the most notorious criminals in American history. Located just 1.5 miles of the shoreline of San Francisco, Alcatraz is just as imposing from a distance as it up close. Commonly known as the 'Rock' it served as a prison until its closure in 1963 before becoming a national recreation area in 1972.
Today, guided tours of the island and the prison facility are almost a 'must do' for anyone visiting San Francisco, accessing the island by a short ferry trip across the Bay. As you cross the water you get an idea of the impossibility of escape, the ice cold, shark infested waters a barrier to anyone who managed to make it out of their maximum security cell. Luckily, these days, the ferry trip is a two-way journey, with only a few hours spent on the island rather than a few decades.