Manchester to Zurich Cheapest Fares
To search and book flights to Zurich, please enter your travel requirements in the search form above, and click the search button.
Visit Zurich for the world's largest techno party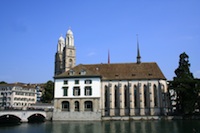 Although Zurich is a leading city of world banks and a major financial centre, it is also a vibrant and fashionable city. Zurich is by far the largest city in the country and hosts many events, celebrations, and festivals.
For those taking time to visit Zurich from Manchester, the Street Parade that takes place each August is an event worth watching. It has become one of Switzerland's premier events with its carnival atmosphere and endless range of street floats. This annual event has been noted as being one of the largest techno parties in the world with more than one million people attending the event each year.
While enjoying the Street Parade, there are other great areas of the city that should not be missed. Start off by making your way to the Altstadtbummel, which is also referred to as the Old Town. Enjoy a stroll along one of the many waterfronts or take in an afternoon cruise on Lake Zurich or the Limmat River. For some fun in the sun, join the friendly crowds at Stradbad Mythenquai beach resort or make your way to the Sprungli Factory, which is where the city's finest chocolates are made.
For historical landmarks, get ready because Zurich has a lot of them. One of the most impressive is the Fraumunster Cathedral which towers above the Munsterplatz. Thre is also the breathtaking twin-spired Grossmunster Cathedral which dates back to the 11th century. An afternoon stroll will also find you many castles, mountains, museums, and other outstanding landmarks.