Durham Tees Valley to Amsterdam Cheapest Fares
To search and book flights to Amsterdam, please enter your travel requirements in the search form above, and click the search button.
Quirky, Creative and Fun: Amsterdam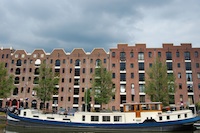 Amsterdam is one of Europe's top destinations. The city is an epitome of fun and freedom, combining enjoyment with culture and history.
After a few years of 'soul-searching', Amsterdam has returned to its original self. A city of creation, quirk and open-mindedness, Amsterdam has gone through a make-over. Almost anything is tolerated and Amsterdam embraces newcomers, especially those who match its wild spirit. The coffee shops are not to be confused with cafes; the latter serves coffee, the former reefers (marijuana). Forget finding yourself, come to Amsterdam to lose yourself!
It is no wonder, perhaps, that Amsterdam has been the home of wonderful artists throughout the centuries. Now, the beautiful facades of the buildings and architectural wonders stand testament to the city's artistic spirit. Museums are packed with artistic treasures. One stop which is a must for any art lover is the Van Gogh Museum. The museum holds up to 200 paintings and 500 drawings by Vincent Van Gogh, his brother Theo and their friends and contemporaries.
The beauty of the city cannot be hidden, and canal rides through it often reveal hidden gems. During June, there is a festival celebrating these secretive wonders, in the Open Garden Days. During these few days, private gardens are opened to the public.
The Amsterdam Roots Festival is an annual, free celebration during June. It celebrates the diversity of global music. From song to dance, Amsterdam hosts a contemporary dance festival during July, as well as theatrical festivals annually. During the summer months, Amsterdam is a riot of colours and parades, and this is undoubtedly the best time to visit.
Flights from Durham Tees Valley to Amsterdam require a connecting flight.