Newcastle to Copenhagen Cheapest Fares
The lowest fare found from Newcastle (NCL) to Copenhagen (CPH) was £151 with British Airways. The fares shown here are the lowest flight prices to Copenhagen obtained in actual searches by Just The Flight customers. To search and book flights to Copenhagen, please enter your travel requirements in the search form above, and click the search button.
Events at the Copenhagen Jazz Festival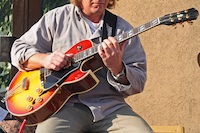 Copenhagen, the capital of Denmark, is a city known for its rich history and culture. Music aficionados travel here every year to be part of the Copenhagen Jazz Festival. The Copenhagen Jazz Festival attracts around 240,000 visitors every year, with people arriving in Denmark from all over the world to attend. The festival has been an annual event since the 1950s, and it started due to the rising popularity of jazz music in Denmark. Musicians from all over the world perform here, making an eclectic mix of Danish and international musicians.
The Copenhagen Jazz Festival is renowned for being one of the biggest music events in Europe. The festival lasts for one week, and there are over 1,000 concerts during that time. Concerts take place in venues all over the city. Some of the main locations include Jazzhus Montmartre, Tivoli Gardens, the Royal Danish Theatre, the Copenhagen Opera House, Statens Museum for Kunst, and the Copenhagen Jazz House. All of these venues will be packed with jazz musicians and fans during the festival.
Visitors flock to the Copenhagen Jazz Festival to experience up and coming jazz artists, as well as enjoy the music of established jazz musicians. The festival features so many concerts that you can check out the ones you want to attend and plan around them.