Newcastle to Dubai Cheapest Fares
The lowest fare found from Newcastle (NCL) to Dubai (DXB) was £346 with KLM, the cheapest direct flight was £434 with Emirates, while Business Class was £1599 with KLM. The fares shown here are the lowest flight prices to Dubai obtained in actual searches by Just The Flight customers. To search and book flights to Dubai, please enter your travel requirements in the search form above, and click the search button.
Dubai: The sophisticated desert City.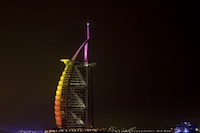 Centuries ago, Dubai was a remote place but now it has emerged from the sand to become a new tourist destination for travellers from all over the world. The city is predominantly a desert but has lots of state of the art infrastructure and excellent tourist amenities that have made it stand out as a great tourist destination.
When travelling to Dubai from Newcastle, there are several airlines flying in and out of the city such as Emirates that has a single direct flight each day in the early afternoon. Travellers can also fly using Lufthansa, Air France and British Airways.
Premiered in December 2004, the Dubai International Film Festival is the largest film festival held in the Middle East. The festival showcases some of the best films and talent from the Arab world, Asia and Africa.
Dubai is well known for achieving many impressive records; it is home to the world's tallest building. The Burj Al Arab hotel is one of the most impressive landmarks in the city. From the top floors of the hotel, visitors will be able to see the sandy white Jumeirah Beach, the city's skyline in addition to the Grand and Jumeirah Mosques.
The city hosts the Desert Classic, a popular international golf tournament that attracts some of the best players from all over the world. There is also the International Jazz Festival, Desert Challenge, Dubai Tennis Championships and the Rugby Sevens that takes place in December. The Dubai Shopping Festival is a shoppers paradise that takes place from mid-January to mid-February and has evolved from a simple event to an annual shopping, cultural extravaganza.