Newcastle to London Cheapest Fares
To search and book flights to London, please enter your travel requirements in the search form above, and click the search button.
Servicing London the Newcastle Way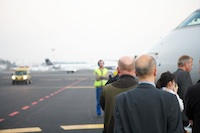 The Newcastle Airport, which celebrated its 75th anniversary in 2010, was established by Sir Phillip Cunliffe-Lister in 1935. At the time, Cunliffe-Lister was the Secretary of State for Air and the fledgling Newcastle airport consisted of one hangar, a couple of workshops, a clubhouse, a fuel garage, and a grass runway. Today, it is the country's tenth-largest airport in terms of area size and handles close to five and a half million passengers a year. Considered the largest-growing regional airport in the United Kingdom, Newcastle services the London area with flights into Heathrow, Gatwick, and Stansted.
Holiday and business travellers who book flights to London from Newcastle can use British Airways for Heathrow, can use the Flybe airline to fly into Gatwick, and can book flights on Easyjet for landings in Stansted. British Airways and Easyjet are high-traffic airlines in and out of Newcastle and are major presences in the airport.
Newcastle Airport offers a Fast Track Security Pass for a nominal fee that allows passengers to streamline the boarding process in the security area. Purchase Fast Track passes from the self-service kiosk in the terminal before reaching the security search area. Continue down the fast track channel to the search area where staff will perform all boarding checks and clear the passengers into the secure waiting area.
For any traveller, a Fast Track Security Pass gets you through airport security as quickly as possible without having to queue up in a long line.