Norwich to Amsterdam Cheapest Fares
The lowest fare found from Norwich (NWI) to Amsterdam (AMS) was £128 with KLM. The fares shown here are the lowest flight prices to Amsterdam obtained in actual searches by Just The Flight customers. To search and book flights to Amsterdam, please enter your travel requirements in the search form above, and click the search button.
Amsterdam Turkish Film Festival Shows You Something New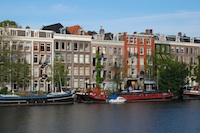 The Turkish Film Festival in Amsterdam is home to the forerunners of Turkish film. This exciting festival puts you in the front row for some of the most interesting film to date. Get there this year.
How much do you know about the Turkish cinema? If your answer is not much, you may want to check out the Turkish Film Festival in Amsterdam. Held annually in March, the Turkish Film Festival showcases the work of Turkish filmmakers living in their home country, as well as Turkish filmmakers who live abroad. With a variety of films spread over the course of three days, the Turkish Film Festival gives you an intimate view of the Turkish cinema. The films are mixed with actor and filmmaker interviews, as well as question and answer sessions. Though Turkish film is not as well known across the world as the film of other countries, the Turkish Film Festival will leave you asking why.
A huge plus to attending the Turkish Film Festival is the after parties. The DJs are both Dutch and Turkish, and lay out beats funky enough to keep you dancing all night. Anyone who values the night life ought to be at the Turkish Film Festival after parties. You experience Amsterdam through these parties.
With three flights per day to Amsterdam from Norwich, you can be at your festival destination in less than an hour.