Southampton to Amsterdam Cheapest Fares
The lowest fare found from Southampton (SOU) to Amsterdam (AMS) was £1274 with KLM. The fares shown here are the lowest flight prices to Amsterdam obtained in actual searches by Just The Flight customers. To search and book flights to Amsterdam, please enter your travel requirements in the search form above, and click the search button.
Queen's Day in Amsterdam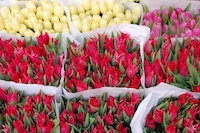 Amsterdam is known for the many festivals and cultural events it hosts throughout the year. One of its most popular events is Queen's Day. It occurs in April of every year. The date marks the former queen's birthday and the day when the former queen passed her reign onto the current queen. Queen's Day is an opportunity for people in Amsterdam, including citizens and visitors, to celebrate the queen and enjoy the culture of the Netherlands. In the Netherlands, Queen's Day is called Koninginnedag.
Lots of events accompany Queen's Day. The streets are filled with markets selling local and cultural items. There are special events, parades, and celebrations throughout the city. Close to 700,000 people make Amsterdam their destination every year to take part in Queen's Day, and they partake in singing, dancing, parties, and entertainment. The atmosphere of the city is much like a carnival. The celebration of Queen's Day lasts all day and well into the night, when the party goes to local bars and clubs.
Getting to the Netherlands for Queen's Day is easy, with flights leaving for Amsterdam from Southampton on a frequent basis. Travellers can enjoy Queen's Day by making travel and lodging arrangements in advance. With so many people going to the city for Queen's Day, it's important to plan in advance. Visitors who go to Amsterdam for Queen's Day should be sure to wear orange. Orange is the colour of the royal family, and it's well known that everyone wears orange on Queen's Day!