Southampton to Dublin Cheapest Fares
To search and book flights to Dublin, please enter your travel requirements in the search form above, and click the search button.
Lively Literary Dublin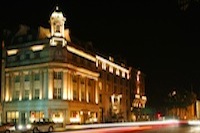 Dublin, the capital of Ireland, is known around the world for its lively, friendly nightlife and fascinating historical buildings. Dublin has over six hundred pubs within the city limits so no visit to the city would be complete without trying Ireland's famous Guinness beer, which tastes better in a real Irish pub than it does anywhere else in the world. A short flight from Southampton Airport to Dublin Airport will bring visitors all the closer to The Temple Bar district, an especially popular spot with tourists looking to sample the city's famous nightlife. As well as pubs, Dublin offers a range of brilliant nightclubs, including The Button Factory, Copper Face Jacks, Purty Kitchen, Twisted Pepper, The Academy and many more.
During the day, visitors to Dublin can soak up culture in the city's many museums, including the National Gallery of Ireland and the Irish Museum of Modern Art, both filled with stunning collections. Not to forget the Old Library at Trinity College Dublin, where it is possible to view the beautiful medieval Book of Kells. Book lovers will enjoy a trip to the Dublin Writers Museum which contains exhibitions on Joyce, Yeats, and Shaw, amongst other famous Irish writers. This can be followed by the Dublin Literary Pub Crawl, a brilliant introduction to Irish literary history served up between pints in some of Dublin's best drinking establishments, where writers like James Joyce once passed the time. Spare some time for a visit to Dublin Castle as well, to get a sense of the history that makes the city such a fascinating place to visit today.